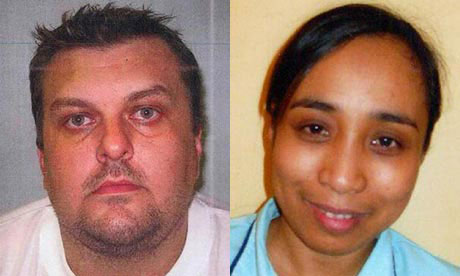 An IT worker who killed a woman he met on the internet before emptying her bank account and dumping her body in a suitcase was jailed for life today.
Clinton Bailey, 36, was told he must serve at least 30 years in jail after being convicted of the murder of Leah Questin.
Bailey used his victim's money to buy bottles of champagne for another girlfriend days after the killing, inviting her round to drink it while Questin's body was still stored in his garage last September.
Bailey had posed as a BBC executive and offered gifts to seduce women he met on the internet. In fact, he had no steady job and struggled to make ends meet, and was described as a "conman" who "lied through his teeth" by a source close to the case.
The South African, from Lewisham, south-east London, swore and called jurors "stupid" after being convicted of murder at the Old Bailey today, before storming out of the dock.
After hearing that he faced a minimum term of 30 years because the killing was done for gain, he shouted: "Fuck me, I didn't kill her. Are you people stupid or something? Look at the pathology. How the hell?"
Bailey's victim, a 37-year-old care assistant, had told him she loved him but he was more interested in the £3,000 she had saved up over years of hard work.
He killed her, thinking she would not be missed, before clearing out her account and continuing to look for women on the internet.
Questin's naked remains were later found dumped near a dried-up pond in the countryside near Cliffe, Kent, and were identified by fingerprint records.
Her 4ft 11in body was discovered by a passerby, stuffed into a padlocked and bulging suitcase, along with a number of air fresheners. It was too decomposed to find a cause of death.
Bailey was not in court to hear his sentence.
Judge Gerald Gordon said: "What he did with her body was dreadful but clearly pales into insignificance compared with the fact that he murdered her. That murder was clearly done for gain."
Bailey later admitted getting rid of Questin's body but his barrister, Bernard Richmond QC, said that while his client was "prone to dishonesty and deception", it could not be proved he killed her. Jurors rejected this.
The victim's sister, Alda Magdalena Questin-Esta, said: "She didn't deserve the grim and tragic circumstances that led to her death. She became the unfortunate victim of a mad and senseless killer."
Peter Wright QC, prosecuting, told the court that at the time Bailey met Questin, he had "serious money problems", with his bank account heavily overdrawn and his credit card cancelled.
He had a steady girlfriend, Debra Jooste, but told friends he was sexually frustrated and placed an advert on the Gumtree website last August.
Bailey described himself as a "very intelligent 33-year-old" – with an email address starting "hi.iq.146" – looking for a woman from the Philippines.
Questin, of Cricklewood, north-west London, responded the same day and was soon regularly visiting Bailey's one-bedroom flat. "Leah Questin was searching for affection, a relationship, and possibly marriage," said Wright.
Soon she was texting him that she loved him, and he persuaded her to withdraw £900 from her bank account so he could pay the rent.
On September 12, Oyster card records showed her travelling to his home. Hours later she was dead, jurors were told. Later that evening Bailey used her bank card to withdraw £180, and over the next nine days her bank account was "systematically drained", leaving a final balance of £4.96, the court heard.
Bailey sent text messages to and from her phone to cover his tracks and used her Oyster card to go shopping for a large suitcase.
Wright said: "He placed her body in that suitcase and then waited for the opportunity to dispose of it. Firstly, he emptied her bank account on an almost daily basis."
On 18 September, Bailey invited another woman he had met on the internet to his home while Questin's body was still stored in the case in his garage. Five days later he dumped it in Kent, and it was discovered the next day.
The court heard there were no obvious signs of trauma but that suffocation, asphyxiation or strangling could not be ruled out. A small amount of Questin's blood was found on Bailey's bed.
When he was arrested on suspicion of murder he said: "You're joking, right?"
A source close to the case said that because Questin had no family in the country, the killer thought "she wouldn't be missed that much".
"She did have a couple of thousand pounds in her account and she was vulnerable. She wanted to meet someone and marry someone and have kids."