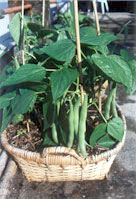 Container gardening
You can grow plants in virtually anything that holds some soil and has holes in the bottom for drainage. It's only bounded by your imagination — a chance for some really creative recycling.
We use old bathtubs, 20-litre plastic containers with the tops cut off, baskets of various sizes lined with garbage bags to hold the water in, milk cartons for seedlings, anything that comes to hand. We almost used some dumped toilet bowls, only we didn't like the color (pink).
— "You can raise a surprising amount of food on your roof, deck, patio or windowsill. The rewards can be large, even if your space is small" — Chuck Crandall and Barbara Crandall, "Movable Harvests"
---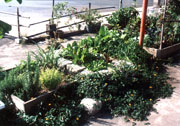 We stuck three sprigs of Creeping Buttercup in a gaily-painted enamel Chinese chamber pot with some holes drilled in the bottom. Now it forms a border round all the growing beds and beyond — what we call our "lawn". It seems to make its own soil on the cement, catching dust and sand with its hardy roots, it survives trampling and typhoons, and provides a lot of compost material — and no, it doesn't invade the beds. The chamber pot's still there, discreetly hidden from view behind the granite rock in the foreground — and by the buttercups.
---
Container gardening resources

Gardening in Containers: Growing in Small and Soilless Spaces, US National Gardening Association, Growing Ideas Classroom Projects, 2003 — Detailed practical guide online, designed for teachers to use in school gardening projects, useful for anyone. Background, creative containers, plants and schemes, plants for container gardens, special container projects, recommended web sites, books and tools. Chart of vegetables, showing good container varieties, container size, final plant spacing, light requirement, minimum soil depth. Also herbs, annual flowers, bulbs, perennials. 3 web pages, 5,000 words. Online:
http://www.kidsgardening.com/growingideas/PROJECTS/feb03/pg1.html
"Above-Ground Gardens" by Dr. Martin L. Price & Laura S. Meitzner, 1996, ECHO Technical Note (reprinted from Ch 17 of ECHO's book Amaranth to Zai Holes, 1996), Educational Concerns for Hunger Organization (ECHO)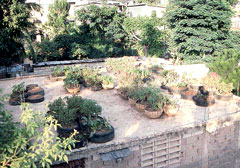 Urban food production is often overlooked by development planners. There is considerable potential to involve millions of city families in food production, who may not at first seem to have anywhere to garden — where there is plenty of sunshine but either no soil or the soil does not lend itself to cultivation. "Above-ground" techniques can fit the countless hectares of sturdy, flat cement rooftops and many more hectares of tin roofs on insubstantial shanties, steep hillsides, extremely poor soils, yards of rock or cement, spaces around tree roots, and places where land tenure is so unstable that only portable gardens are attractive. Download (Acrobat file):
http://www.echotech.org/mambo/images/DocMan/Abovegro.pdf
Full-length version, in Amaranth to Zai Holes:
http://www.echotech.org/technical/az/aztext/azch17.htm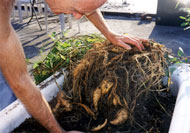 GardenGuides' Container Gardening Guide Sheets are a useful source of instant information: 21 different guides. The two-page basic Guide to Container Gardening covers Choosing containers, Growing mixture, Sunlight, Fertilizer, Watering, What to grow? on the first page, while the second page deals with vegetables: common vegetables listed with type of container and recommended variety, linked to references on each vegetable covering types, conditions, maintenance and harvest, pests, recipes and useful links. The website has hundreds of other guides on all aspects of gardening, and further resources. Guide to Container Gardening:
http://www.gardenguides.com/TipsandTechniques/container.htm
Vegetables in Containers:
http://www.gardenguides.com/TipsandTechniques/container2.htm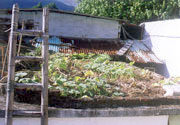 Container Farming — Organic food production in the slums of Mexico City. Fifteen million Mexicans live in extreme poverty — above all in urban marginal areas like the slums of Mexico City. Some seven years ago a group of NGOs launched a project to help people there to grow their own food organically in small backyards or patios, balconies, roof tops — as a way to help counteract the poverty being imposed upon them. This is the report on the project, by sociologist and community worker Rodrigo A. Medellín Erdmann.